Burgermania - cheese, bacon, fries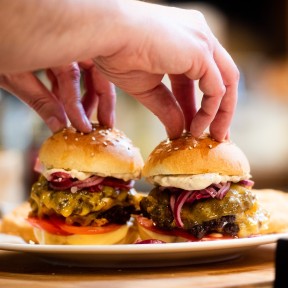 1 person / course = 15.990,-
2 person / course = 27.990,-
Some say hamburger is one of mankind's biggest achievements! We vouch for that! There are so many important elements: the meat, the patty, the seasoning, the bun and all the condiments. Fear not: on this course we talk about these important issues in details. We show some tips and hints for cheese-and bacon lovers, too. Not to forget the most important buddy for a good burger: there's gonna be fries! Come hungry, leave happy!
MENU
Ultimate bacon burger
Double burger triple cheese
Superlight french fries with four sauces
ALLERGEN INFORMATION
Please advice us on any food allergies or intolerance you might have.
DATES
Unfortunately there is no available date.
COURSE REMINDER …
Notify me if this course is being published at another time or a place becomes available.