Fish and Seafood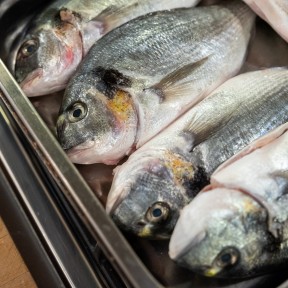 Duration: 3 hour
Number: 10 person
Difficulty:
Language: Hungarian
1 person / course = 15.990,-
2 person / course = 27.990,-
What's your fear of fish and seafood? Don't have confidence to cook seafood dishes? Hate that "fishy" smell? Our Chef will help you conquer your fears with professional techniques and recipes that reap the health benefits and international flavors of seafood.
MENU
Piri-Piri prawns
Mussels in wine, baguette
Mediterranean fried calamari, mayo
Salt crusted sea bass, spinach potato
ALLERGEN INFORMATION
Please advice us on any food allergies or intolerance you might have.
DATES
30 September 2020
- Wednesday
18:00 - 21:00
Bécsi út
02 October 2020
- Friday
18:00 - 21:00
Bécsi út
06 October 2020
- Tuesday
18:00 - 21:00
Bécsi út
IF THE DATE IS NOT SUITABLE …
Notify me if this course is being published at another time or a place becomes available.