Ashkenazi Jewish Kitchen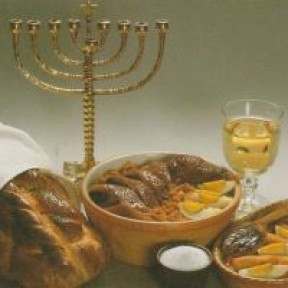 Difficulty level:
Use of ingredients:
Cultural depth:
Kevés konyha van a világon, ahol a vallás vett rész leginkább annak az alakításában. A klasszikus zsidó konyha ilyen: talán a legtöbb előírást tartalmazza az alapanyagokra, az ételek elkészítésére és tálalására vonatkozóan, pl. mikor mit szokás/szabad enni, hogy milyen húsfajtákat fogyasszanak, vagy hogy nem keverjük a tej és húskészítményeket. Nagyon örvendetes, hogy a zsidó/kóser konyha Budapesten is "újra" jön fel. A mai menüsort az askenázi, a közép kelet-európai zsidó konyha kedvenceiből raktuk össze. Pár dolog ismerős, hiszen valahol a magyar konyhának is részei (voltak talán mindig is) ezek az ételek és alapanyagok. A kurzus szándékosan péntek este megy, hogy a szombati ünnepre – sabbath - minden kész és finom legyen és élvezni tudjuk.
MENU
Maceszgombócleves / Matzo ball soup
Cholent
Challah bread
Flodni with apple, walnut and poppy seeds
DATES
Unfortunately there are no dates available.
COURSE REMINDER …
Notify me if this course is being published at another time or a place becomes available.
HASHTAGIFY