Baked Goods - Children's course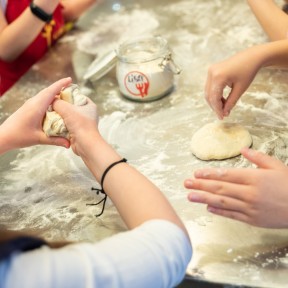 Regardless of age making a raised dough can be so much fun! Put on your baker's hat, as we are preparing the most delicious baked goods! The tired little bakers' well-deserved treats will include chocolate swirls and cinnamon babka, alongside mini pizzas made by them personally. We wonder if any of these will make it back home for a showcase?
We recommend the course for children around 10-13 years.
Only chirden can particapate in this class, you can pick them up at the end.
MENU
Mini pizza
Kakaós csiga / Chocolate swirl bun
Cinnamon babka
DATES
Unfortunately there are no dates available.
COURSE REMINDER …
Notify me if this course is being published at another time or a place becomes available.
HASHTAGIFY