Burgermania - cheese, bacon, fries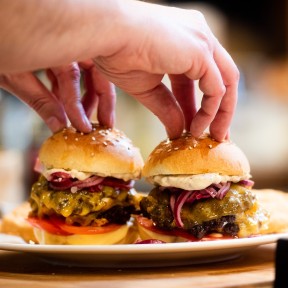 Duration: 3 hour
Number: 10 person
Difficulty level:
Use of ingredients:
Cultural depth:
Language: Hungarian
Some say hamburger is one of mankind's biggest achievements! We vouch for that! There are so many important elements: the meat, the patty, the seasoning, the bun and all the condiments. Fear not: on this course we talk about these important issues in details. We show some tips and hints for cheese-and bacon lovers, too. Not to forget the most important buddy for a good burger: there's gonna be fries! Come hungry, leave happy!
MENU
Ultimate bacon burger
Double burger triple cheese
Freshmade burger bun
Superlight french fries & dips
DATES
Unfortunately there are no dates available.
COURSE REMINDER …
Notify me if this course is being published at another time or a place becomes available.
HASHTAGIFY