Cookie Art How to be a cookie artist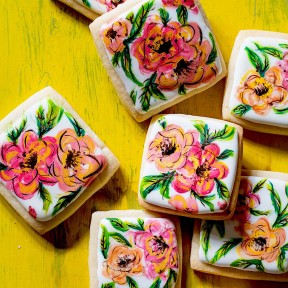 A sütemények és kekszek dekorálása a cukrászaton belül egy külön szakma, sőt művészeti ág! Az igény a színes és dekoratív édességekre korántsem modernkori jelenség, számos nemzet büszkélkedhet akár a középkorig visszanyúló hagyományokkal (helló, mézeskalács!). Miért rajongunk ennyire a színes édességek iránt? Mert élmény őket elkészíteni és élmény őket ajándékba adni! A Dekorálás Művészete kurzusunkon egy hivatásos "cookie artist" segítségével tanulhatsz dekorálási technikákat és készíthetsz professzionális küllemű kekszeket. A kekszek mintája mindig az aktuális hónap ünnepeire, az évszak jellegzetességeire reflektál, az elkészült édességekhez pedig méltó díszcsomagolást biztosítunk. Tarts velünk, és ismerkedj meg a "cookie art" alapjaival!
MENU
Sugar Cookie dough
Decorating glaze
DATES
Unfortunately there are no dates available.
COURSE REMINDER …
Notify me if this course is being published at another time or a place becomes available.
HASHTAGIFY