Crazy for brownies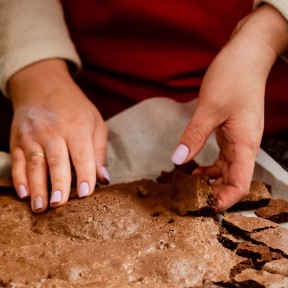 Difficulty level:
Use of ingredients:
Cultural depth:
Crispy surface, fudgy core, sweet all around - what is it? The best known american dessert - the brownie - may seem to be a humble chocolate cake, but it is far from the truth. It takes timing and skill to find that holy moment when it cracks and oozes and has the perfect color, taste and density. Come and we show you how to achieve the BEST brownie you ever made, and learn a few variations so you never get bored with it.
MENU
Coco and lime blondie
Very chocolate brownie with candied orange peel
Cream cheese brownie
Brownie cup, salted caramel, white chocolate crunchy
ALLERGEN INFORMATION
Please advice us on any food allergies or intolerance you might have.
DATES
Unfortunately there is no available occasion.
COURSE REMINDER …
Notify me if this course is being published at another time or a place becomes available.