Enter Fusion Cuisine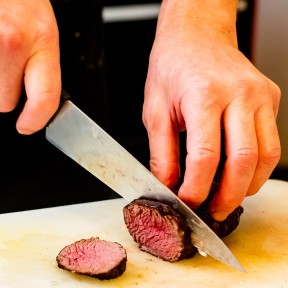 Duration: 3 hour
Number: 10 person
Difficulty level:
Use of ingredients:
Cultural depth:
Language: Hungarian
Fusion cuisine - ie. selecting and mixing different cuisines, regions, spices and techniques - has been very popular lately. Peter Gordon the pioneer in fusion kitchen has been with us some years ago - the following set of menu is from his latest book Fusion.
MENU
Pork steamed in coffee, licorice root sauce, granny smith (China and Italy)
Kumara, spinach, feta tortilla & sumac yogurt (Spain, Middle- East)
Ginger poached deer, parmesan sauce and broccoli couscous (Europe and Maghreb)
Pomegranate, panna cotta, pear and basil jelly (Middle- East and Italy)
DATES
COURSE REMINDER …
Notify me if this course is being published at another time or a place becomes available.