Fish and Seafood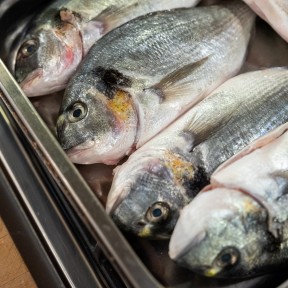 Duration: 3 hour
Number: 10 person
Difficulty level:
Use of ingredients:
Cultural depth:
Language: English
What's your fear of fish and seafood? Don't have confidence to cook seafood dishes? Hate that "fishy" smell? Our Chef will help you conquer your fears with professional techniques and recipes that reap the health benefits and international flavors of seafood.
MENU
Piri-Piri prawns
Moules au vin blanc / Mussels in wine, baguette
Mediterranean fried calamari, mayo
Salt crusted sea bass, spinach potato
DATES
09 December 2023
- Saturday
16:00 - 19:00
Etyek
20 January 2024
- Saturday
10:00 - 13:00
Etyek
IF THE DATE IS NOT SUITABLE …
Notify me if this course is being published at another time or a place becomes available.