Grill academy - powered by LANDMANN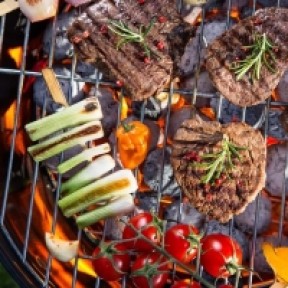 1 person = 15.990,-
2 persons = 28.990,-
3 persons = 39.990,-
4 persons = 49.990,-
Does'nt matter if you've been having grill-parties in your backyard for ages or you are an absolute newbee, this co-production grill-course with Chefparade and Landmann is gonna make you the king of the summer jamborees! We tell you about all the technical stuff: tools, heat, gas, fire, etc. Then we move on to the flavors: sauces, spices, marinades, sides, salads and veggies. We show you the right cuts, the cleaning and preparing the meat for grilling. You will learn all these things through cooking and eating a feast together, just like a real garden party. IMPORTANT: this course takes place at Etyek, Chefparade Country. The number of participants is up to 20, more than one chefs are teaching simultaneously, and the duration of the course is 4-5 hours! We advise you to register with 2 or 4 persons together.
MENU
Grill sauces / Tomato jam, Mint-chili tzatziki, BBQ sauce
Grilled shrimp skewer and salmon filet
Grilled chicken, cajun seasoning, tricolor coleslaw
Beer and mustard marinated clod, bean salad, green herbs
T-bone steak, grilled vegetables, dry marinade
ALLERGEN INFORMATION
Please advice us on any food allergies or intolerance you might have.
DATES
Unfortunately there is no available date.
COURSE REMINDER …
Notify me if this course is being published at another time or a place becomes available.
HASHTAGIFY