Let us cook for you Come, have lunch in Etyek!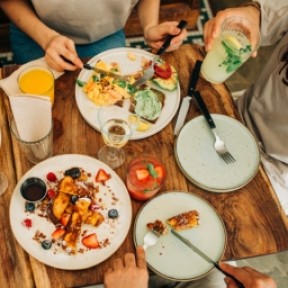 Come to Etyeki Öreghegy in 2021
Now let Chefparade do the cooking – come over and lunch with us
10 Saturdays of 2022, our fabulous country promenade will be open to public and we can have a wonderful food experience and more. Chefparade Country will be holding a lunch set menu these Saturdays. This is not a cooking school experience, the vouchers are not valid either. Yet our garden and the kitchen will be open and we can demo you how it all is being cooked and served. There will be lots of good food, wine and champagne from Etyek, splendid desserts.
The following are the dates and the food topics
June 4. – Fish lover Italy
June 18. – Street Food Thailand
July 2. – Mezze Middel East
July 16. – All about Burgers
July 30. – French Bistro
August 13. – Grill Chicken of the World
August 27. – Comfort Food USA
September 10. – Balkan Feast
September 24. – BBQ by Chefparade
The price of one Chefparade lunch tray is HUF 7.990. This includes the selected menu for one with dessert, take away containers, water and sparkling water, and a welcome drink.
Lunch service is from 12pm to 4pm. If you are uncertain of how many you are please note you can order on the spot, yet premade bookings will have a priority. Should you be more than 4, please email us at etyek@chefparade.hu. Wine, champagne, soda drinks can be order and paid cash or card from the drink menu.
DATES
Unfortunately there are no dates available.