Let's grill - the minced meat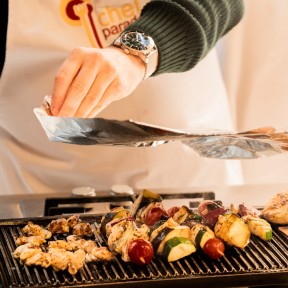 Duration: 3 hour
Number: 10 person
Difficulty level:
Use of ingredients:
Cultural depth:
Language: Hungarian
Magyarország, valljuk be nem egy született grillnemzet. Szerencsére azonban nem kell túl messzire mennünk például Dél és Keleti irányba, hogy szuper helyeket, országokat találjunk, akik azok. Ma esti grillkurzusunkon a Balkánról indulva, a Közel-Keleten és Dél-Orosz vidékeken át egészen Közép Ázsiáig megyünk. Csevapcsicsi, mics, kebab és saslikok lesznek műsoron – és egy sor grillezési szak-kérdést érintünk. Hogyan fűszerezzünk? Kell-e szódabikarbona? Frissen is fogunk húst darálni? És egyáltalán milyen húst daráljunk: borjú, birka, bárány, sertés? Hogyan nyársaljunk saslikot? És mit együnk köretnek, vagy mártogatónak? Itt ma mindenre választ kapunk. És igen, előre eláruljuk: a darált hús (újra) menő. Közös étkezés lesz a kurzus végén, kéretik éhesen érkezni, minden frissen finom. A kurzusunk Etyeken, a Chefparade Country teraszon fut. Páros jelentkezést preferálunk.
MENU
Cevapcici / Grilled serbian sausage
Ajvar / Balkan style vegetable pepper relish
Georgian Chicken & Pork Shashlik, fresh green salad
Lebanese style beef kafta with lebanese rice
Sammi lamb kebab with mint-coriander relish
DATES
COURSE REMINDER …
Notify me if this course is being published at another time or a place becomes available.