Let's grill - the minced meat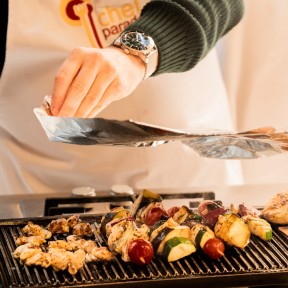 Duration: 3 hour
Number: 10 person
Difficulty level:
Use of ingredients:
Cultural depth:
Language: Hungarian
Let's admit it, Hungary isn't exactly a born grilling nation. However, we don't have to go too far, for example, in the South and East, to find great places, countries that are great at grilling. In our grill class, starting from the Balkans and traversing through the Middle East and the regions of Southern Russia, we go all the way to Central Asia. Ćevapi, mici, kebabs, and shashliks will be on the menu – and we'll cover a wide range of grilling expert questions. How should we season? Is baking soda necessary? Are we grinding the meat fresh? And what type of meat should we grind: veal, lamb, mutton, pork? How do we skewer a shashlik? And what should we have as a side dish or dip? Today, we'll get answers to everything. And yes, we're letting you in on a secret: ground meat is getting popular again.
MENU
Cevapcici / Grilled serbian sausage, ajvar, pita bread
Ajvar / Balkan style vegetable pepper relish
Georgian Chicken & Pork Shashlik, fresh green salad
Lebanese style beef kafta with Lebanese rice
Sammi lamb kebab with mint-coriander relish
DATES
Unfortunately there are no dates available.
COURSE REMINDER …
Notify me if this course is being published at another time or a place becomes available.
HASHTAGIFY