Master Tricks of Sous Vide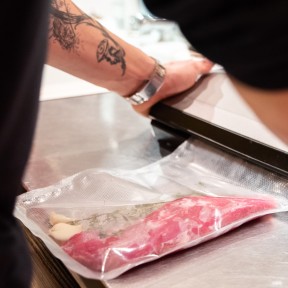 Duration: 3 hour
Number: 10 person
Difficulty level:
Use of ingredients:
Cultural depth:
Language: Hungarian
Sous vide cooking is a relatively new technique to arrive in the home kitchen. Originally from the French for "under vacuum," because it often involves sealing food in plastic, sous vide allows you to cook food gently in an automatic water bath to the precise perfect temperature. The technique has trickled down from experimental fine-dining restaurant kitchens to everyday home cooks precisely because it's an easy, convenient, and hands-off way to cook. This class will teach you the fool proof way of cooking with the guidance of our skills and you won't believe how easy and delicious sous vide cooking can be!
MENU
Sous vide chicken breast, kohlrabi mash, steak potato
Sous vide pork tenderloin, sweet potato mash, grilled mozzarella
Sous vide beef sirloin, brussel sprouts, macadamia nut
DATES
IF THE DATE IS NOT SUITABLE …
Notify me if this course is being published at another time or a place becomes available.
HASHTAGIFY