Mesmerizing macarons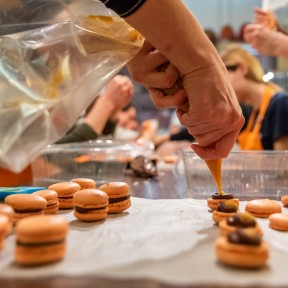 Duration: 3 hour
Number: 8 person
Difficulty level:
Use of ingredients:
Cultural depth:
Language: Hungarian
Yearning for macarons? Here's your chance to learn to make your own! Many people think macaron making can only be achieved in the professional kitchen. The good news is: you will soon be able to make tantalizing-colored Macarons in your own home after taking this class! This class promises a fun session packed with information and essential techniques, where you will learn to prepare the thin, yet amazingly chewy shells to wrap the fillings and to control the temperature and humidity of the macaron shell mixture to achieve the most scrumptious outcome. Next, you will fill your macaron shells with classic and delicious fillings. You will be pleasantly surprised at how easy you can achieve impressive results with a little professional guidance!
MENU
Macaron shells
Basic ganache
Raspberry-white chocolate ganache
Milk chocolate-salted caramel ganache
Raspbery jelly
DATES
30 December 2023
- Saturday
10:00 - 13:00
Bécsi út
30 December 2023
- Saturday
16:00 - 19:00
Bécsi út
COURSE REMINDER …
Notify me if this course is being published at another time or a place becomes available.