Mexican Meat Adventure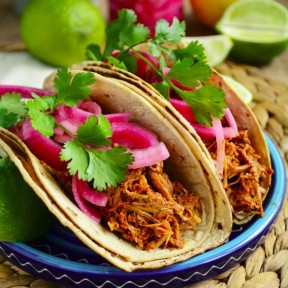 Difficulty level:
Use of ingredients:
Cultural depth:
A mexikói konyha erős húsételekben, sokféle finoman elkészített hús a főszereplője egyszerűen vagy összetett, klasszikus vagy kevésbé ismert finomságoknak – legyenek azok spanyol, más latin- vagy észak-amerikai eredetűek. Ma sült kolbász, tépett csirke, malacsült és sertésborda fogások várnak ránk. Marinálunk, sütünk, grillezünk. Remek salsák, s aláták, chipotle és ancho szószok, és persze mexikói rizs, taco, tortilla is lesz. És igen végül egy remek (eredetileg húsvéti) kenyérpuding desszertet is készítünk különleges fűszerezésű sziruppal és sajttal. Micsoda lakoma! Que fiesta!
MENU
Choripan a la Mexicana / Chorizo hot dog
Shredded Chicken Tinga Taco
Cochinita Pibil / Pulled pork pibil style, exican rice
Costillas de Cerdo horneadas en tres salsas
Capirotada spicy bread pudding
DATES
IF THE DATE IS NOT SUITABLE …
Notify me if this course is being published at another time or a place becomes available.