Meze love from Egypt to Morocco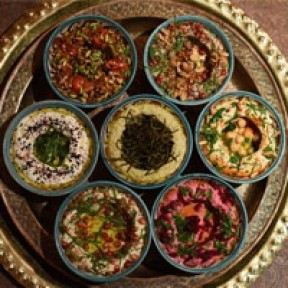 Duration: 3 hour
Number: 10 person
Difficulty level:
Use of ingredients:
Cultural depth:
Language: Hungarian
In the next destination of our 'Meze Love' series, we venture away from the main Mezze culture of the Levant region. We head west to Muslim Africa above the Sahara, to the southern Mediterranean coast, and to the cuisine of the Berber people. We have curated a great menu selection combining the flavors of this historical region. One-pot dishes, typical of the area appear, as well as lighter dishes such as salads, dips, vegetables, and appetizers with an exotic twist.
MENU
Foul mudammas / Fava bean puree
Duqqa / Dukkah, mixture of herbs, nuts
Salata meshweya /Tunisian grilled pepper salad, tuna, eggs
Meatballs kefta tagine
Imbatin / Fried potato wedges stuffed with meat
Salata baladi / Mixed fresh salad from Egypt
Matloua bread / Fresh homemade yeast bread
DATES
16 December 2023
- Saturday
16:00 - 19:00
Páva utca
30 December 2023
- Saturday
16:00 - 19:00
Páva utca
COURSE REMINDER …
Notify me if this course is being published at another time or a place becomes available.