Meze love from Egypt to Morocco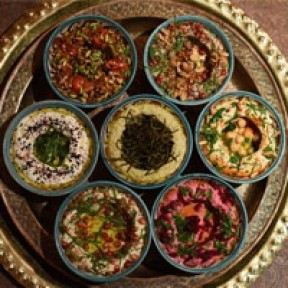 Duration: 3 hour
Number: 10 person
Difficulty level:
Use of ingredients:
Cultural depth:
Language: Hungarian
Mezzemánia sorozatunkban ezúttal elkalandozunk a Mezze kultúra fő területéről a Levante történelmi-földrajzi régióból. Nyugatra vesszük az irányt: a Szahara feletti muszlim Afrika, a Földközi tenger déli vidéke és a berber népek konyhájából kevertünk egy klassz válogatást. Megjelennek a térségre jellemző egytálételek is, illetve könnyebb fogások, mint saláták, mártogatósok, zöldségek, meleg és hideg előételek egy kis egzotikus csavarral.
MENU
Foul mudammas / Fava bean puree
Duqqa / Spicy hazelnut spread
Salata meshweya /Tunisian grilled pepper salad, tuna, eggs
Meatballs kefta tagine
Imbatin / Fried potato wedges stuffed with meat
Salata baladi / Mixed fresh salad from Egypt
Matloua bread / Fresh homemade yeast bread
IF THE DATE IS NOT SUITABLE …
Notify me if this course is being published at another time or a place becomes available.