Meze love Greece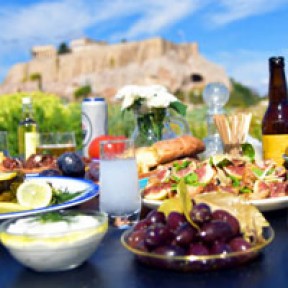 Difficulty level:
Use of ingredients:
Cultural depth:
Meze nagyjából azt jelenti étvágygerjesztő falatka, vagy mondjuk előétel. Hasonlóan más mediterrán országokhoz Görögországban is tapasztalható, hogy milyen jól tud esni a délutáni melegben egy ital mellé valami könnyű, valami kevés. Görögföldön a meze kultúra otthon is dívik, de vannak mezedopoleíá-k is, spéci éttermek ahol csak falatkák vannak a menün, de minden tavernának is van vegyes meze tálja. Ezen a kurzuson ezekből adunk ízelítőt: igazi feta, igazi olívabogyók, görög joghurt, fűszerek, paprika, babok és persze friss, görög saláta és tzatziki házi pitával.
MENU
Garides saganaki / Prawns, tomato and feta
Keftedes / Greek Meatballs
Xoriatiki salad / Greek salad
Gigantes plaki / Baked tomato and white giant beans
Fáva / Yellow pea spread
Τυροπιτα / Homemade greek flatbread with feta
Tzatziki / Yogurt, cucumber and garlic salad
DATES
Unfortunately there is no available occasion.
COURSE REMINDER …
Notify me if this course is being published at another time or a place becomes available.
HASHTAGIFY