Meze-mánia - vegán különkiadás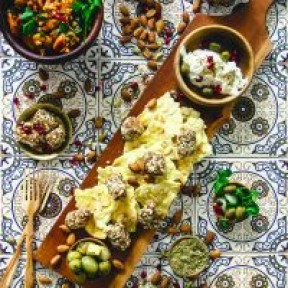 Duration: 3 hour
Number: 10 person
Difficulty level:
Use of ingredients:
Cultural depth:
Language: Hungarian
This course was inspired by the intersection of two popular trends. On one hand, there's the culture of sharing plates and bites from a common dish, and on the other, the demand for a vegan lifestyle and diet. However, this meeting isn't forced: in the eastern Mediterranean region, in today's Middle East, there is a centuries-old tradition of eating "vegan and bite-sized." In fact, it would be harder to find something that isn't fresh and vegetable-based. For our feast today, we've prepared salads, dips, and fantastic one-pot dishes: reimagining a couple of classics and introducing dishes that are less familiar here. Be our guests on a truly rich meze journey, from Israel to Lebanon, through Syria, all the way to Jordan.
MENU
Tabbouleh / Green salad, couscous
Za'atar toasted seed mix
Yellow hummus
Damascus kibbeh with tomato sauce
Rice and vegetable fatteh
Cauliflower Couscous
Muhammara / Roasted red pepper and walnut dip
DATES
09 December 2023
- Saturday
16:00 - 19:00
Bécsi út
27 December 2023
- Wednesday
10:00 - 13:00
Páva utca
COURSE REMINDER …
Notify me if this course is being published at another time or a place becomes available.