Street Food Japan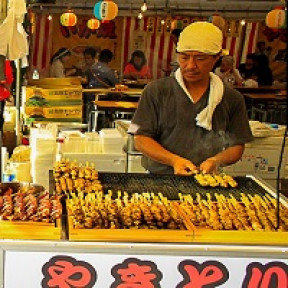 Difficulty level:
Use of ingredients:
Cultural depth:
Japan is a country filled with delicious eats and their street food is especially appetizing. There is absolutely no doubt about it: Tokyo is the best place on Earth for the foodie soul. You'll leave the class ready to make brilliant gyoza at home, with knowledge of the specific ways to present Japanese dishes and a greater understanding of Japanese food culture in general.
MENU
Okonomiyaki / Japanese flatbread with pork and squid
Yaki udon / Wok- fried fresh pasta
Gyoza / Dumpling, stuffed with meat and shrimp
Yakitori selection / Chicken and vegetable skewers
ALLERGEN INFORMATION
Please advice us on any food allergies or intolerance you might have.
DATES
Unfortunately there is no available occasion.
COURSE REMINDER …
Notify me if this course is being published at another time or a place becomes available.