Street Food Mexico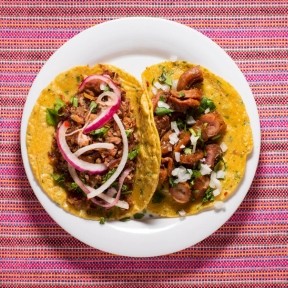 Duration: 3 hour
Number: 10 person
Difficulty:
Language: Hungarian
1 person = 15.990,-
2 persons = 28.990,-
3 persons = 39.990,-
4 persons = 49.990,-
All-time favourite Mexican dishes, you can whip up in a second. Perfect to throw a dinner party for your friends and family – these dishes are the absolute best to share! Dips, quesadillas and out of this world fajitas will guarantee the ultimate fiesta vibes. Taking it a step even further, we added a true tex-mex classic, tequila mousse with fresh lime juice!
MENU
Tacos al Pastor
Nachos, beanspread, salsa
Quesadillas
Beef fajitas, guacamole
ALLERGEN INFORMATION
Please advice us on any food allergies or intolerance you might have.
DATES
14 March 2021
- Sunday
15:00 - 18:00
Páva utca
28 March 2021
- Sunday
10:00 - 13:00
Bécsi út
IF THE DATE IS NOT SUITABLE …
Notify me if this course is being published at another time or a place becomes available.