Street Food Thailand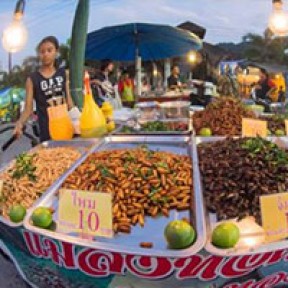 Duration: 3 hour
Number: 10 person
Difficulty level:
Use of ingredients:
Cultural depth:
Language: Hungarian
In Thailand, we can truly understand the meaning of street food. Hundreds of stalls are offering their aromatic dishes, prepared right in front of the hungry customers. Tasting these true Thai classics we find ourselves in the middle of the always busy markets of Phuket, where the air is filled with the scent of chili, ginger and fresh coriander, we can hear the frizzle of the woks on the streets of Ko Samui. Besides the well-known staples of Thai cuisine such as their mango salad, pad thai, spring rolls, skewers we are also going to prepare an authentic Thai dessert.
MENU
Thai green mango salad
Thai spring roll
Thai chicken & pork strips, peanut satay sauce
Pad thai / Stir-fried noodles with prawns
Coconut mango sticky rice
DATES
05 January 2024
- Friday
11:00 - 14:00
Bécsi út
21 January 2024
- Sunday
16:00 - 19:00
Etyek
COURSE REMINDER …
Notify me if this course is being published at another time or a place becomes available.