Tapas - the basics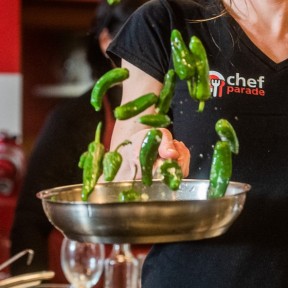 Difficulty level:
Use of ingredients:
Cultural depth:
Dive straight back into Spanish cuisine and begin to learn about how to make tapas and most importantly – eat them! If you're yet to experience true Spanish cuisine, you're in for a real treat. Our Spanish Tapas Class will teach you how to master the (arguably) most loved Spanish food tradition – tapas. ¡Olé! to that!
MENU
Croquetas de jamon y pollo / Ham and chicken croquettes
Chorizo al vino tinto / Chorizo sausage, cooked in red wine
Albóndigas en salsa de tomate / Meatballs in tomato sauce
Pan catalan / Catalan tomato baguett
Pimientos de padron / Grilled padron pepper
Queso marinado / Marinated cheese
Olives marinados / Marinated olives
Tortilla de patatas / Omelette with zucchini, potatoes and onions
DATES
Unfortunately there are no dates available.
COURSE REMINDER …
Notify me if this course is being published at another time or a place becomes available.
HASHTAGIFY