The gastronomy of the islands of Greece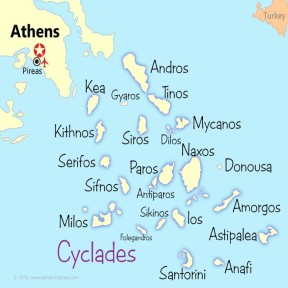 Duration: 3 hour
Number: 10 person
Language: Hungarian
Az, hogy hány görög sziget van, vita tárgya. A szigorúbbak 1200, a megengedőbbek pedig 6000 szigetet számolnak. Főzés szempontjából szerencsére a pontos szigetszám nem fontos, hiszen a változatosság tény: a szigetcsoport a gyönyörű tájak mellett a görög gasztronómia izgalmas regionalitását, a görög szigetvilág gasztronómiáját adja nekünk. Ezen a kurzuson kilépünk a mindenki által ismert görög ételek bűvköréből és új vizekre evezünk: hagyd, hogy a 8 legnagyobb és leghíresebb sziget téged is meghódítson!
MENU
Fáva / Yellow spilt pea puree dip
Tragana kolokithakia sto fourno / Oven baked zucchini sticks (Syros)
Feta se fillo, me meli, kai sousami / Phyllo-wrapped baked feta with honey and sesame (Santorini)
Melitzana sto fourno, me afrata keftedakia / Baked aubergine filled with meatloaf (Kos)
Domatokeftedes / Tomato fritters (Rhodes)
Soutzoukakia / Meatballs in tomato sauce (Lefkada)
Tzatziki me pantzari / Beetroot tzatziki (Mykonos)
Dolmadakia avgolemono / Stuffed grape leaves with lemon sauce (Paros)
DATES
28 December 2023
- Thursday
10:00 - 13:00
Bécsi út
20 January 2024
- Saturday
10:00 - 13:00
Bécsi út
IF THE DATE IS NOT SUITABLE …
Notify me if this course is being published at another time or a place becomes available.