The World of Steaks - sirloin, ribeye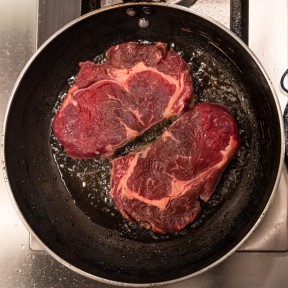 Duration: 3 hour
Number: 10 person
Difficulty level:
Use of ingredients:
Cultural depth:
Language: Hungarian
Steak is king. Steak is what other meat wishes it could be. When a person thinks of meat, the picture that forms in his or her mind is a steak. It can be cooked, crosshatched from the grill and lying in its own juice in a pose suggestive of unmatched succulence, or it can be raw, blood-coloured and framed by white fat, the steak that sleeping bulldogs in vintage cartoons dream of. Steak is powerful. Steak is reassuring. Steak is satisfying in a way that only the pleasures of the flesh can be.
MENU
Rib eye steak, baked potatoes, chive-yoghurt sauce
Sirloin steak, fig cream, marinated beetroot-vegetable tower
Grilled pineapple with mascarpone cream and almond brittle
DATES
IF THE DATE IS NOT SUITABLE …
Notify me if this course is being published at another time or a place becomes available.
HASHTAGIFY