Trout Mania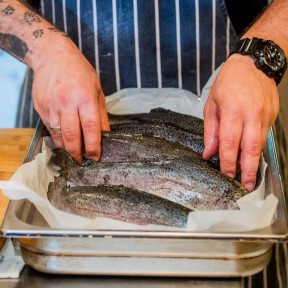 Duration: 3 hour
Number: 10 person
Difficulty level:
Use of ingredients:
Cultural depth:
Language: Hungarian
Usually found in cool, clear streams, ponds and lakes, trout are amazingly good for eating. Trout are also reared in fish farms then planted into freshwater lakes. Trout is prepared by smoking, filleting, baking or broiling. Larger trout can be fried in smaller specimens. Let's see a few varations of the best tasting fish!
MENU
Smoked trout tartare
Trout poached in wine, marinated veggies
Trout baken its skin on, roasted endive salad
Oven baked trout, rosemary, barley risotto
DATES
22 February 2023
- Wednesday
18:00 - 21:00
Bécsi út
15 March 2023
- Wednesday
16:00 - 19:00
Bécsi út
IF THE DATE IS NOT SUITABLE …
Notify me if this course is being published at another time or a place becomes available.