Tuna Lover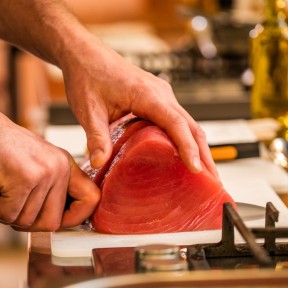 Duration: 3 hour
Number: 10 person
Difficulty level:
Use of ingredients:
Cultural depth:
Language: Hungarian
There is no doubt that tuna is a favorite food for many. It is well known that it is very healthy and can be varied in many ways. Fresh tuna is often compared to beef steak, due to the beautiful red color and meat-like texture. On this course we will try out a variety of flavor directions and make an international outlook, how to process this wonderful fish in some areas.
MENU
Tartare de thon / Tuna tatar
Tuna carpaccio / Fresh, thinly sliced tuna
Vitello tonnato / Veal sirloin, tuna spread
Tuna steak, sweet potato puree, hollandaise sauce
DATES
14 February 2023
- Tuesday
18:00 - 21:00
Bécsi út
15 March 2023
- Wednesday
10:00 - 13:00
Bécsi út
COURSE REMINDER …
Notify me if this course is being published at another time or a place becomes available.