Vietnamese favorites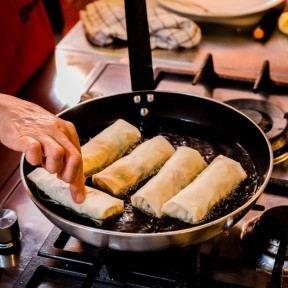 Duration: 3 hour
Number: 10 person
Difficulty level:
Use of ingredients:
Cultural depth:
Language: Hungarian
A bold blend of East Asia, Southeast Asia and France, Vietnamese food captivates through its refreshing flavors, varied textures and vibrant colors. In this class, you will explore the fundamental techniques and ingredients behind some of Vietnam's treasured dishes.
MENU
Nem rán / Vietnamese spring roll
Dưa góp / Carrot and kohlrabi salad
Bún bò trộn chua ngọt / Rice noodles, beef, sweet and sour sauce
Cá cà ri xào nấm / Stir-fried fish curry, oyster mushrooms
Xoài nước cốt dừa hạt chân châu / Tapioca pearls in coconut milk and mango
DATES
28 December 2023
- Thursday
10:00 - 13:00
Páva utca
11 January 2024
- Thursday
18:00 - 21:00
Páva utca
IF THE DATE IS NOT SUITABLE …
Notify me if this course is being published at another time or a place becomes available.