All about shrimps and prawns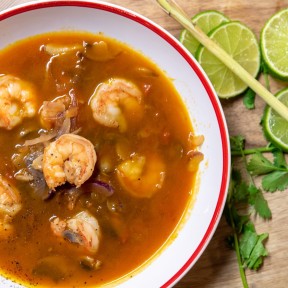 Duration: 3 hour
Number: 10 person
Difficulty:
Language: Hungarian
1 person = 15.990,-
2 persons = 28.990,-
3 persons = 39.990,-
4 persons = 49.990,-
Prawns and shrimps are delicious hot or cold, filling a sandwich, added to a mild sauce, or as main dish. They are very versatile and can brighten up and add an exotic flavour to any plain meal. Just as our special menu shows, there are many ways in which you can cook shrimp and prawns. Come with us for an exotic journey from Latin America to South Asia.
MENU
Tom Yum Goong / Hot and sour prawn soup
Gỏi cuốn / Vietnamese summer rolls
Ensalada de gamba y aguacate / Mexican prawn salad, avocado
Banh phong tom / Prawn crakers, chili-mayo dip
Namya curry / Seafood and fish curry
ALLERGEN INFORMATION
Please advice us on any food allergies or intolerance you might have.
DATES
IF THE DATE IS NOT SUITABLE …
Notify me if this course is being published at another time or a place becomes available.
HASHTAGIFY