Dim Sum and Dumpling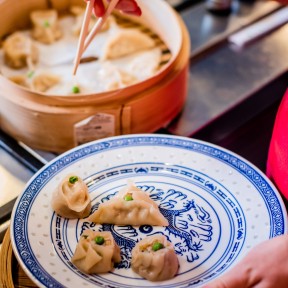 Duration: 3 hour
Number: 10 person
Difficulty:
Language: Hungarian
1 person / course = 15.990,-
2 person / course = 27.990,-
Dim Sum are a staple in Chinese cookery and we are officially obsessed with these little mouthfuls of deliciousness! Come and learn how to make a range of Dim Sum in this Dim Sum Cooking Class! This class will teach you everything you wanted to know about making dim sum. We'll cover ingredients and where to source them, cooking equipment and cooking methods whilst making different types of dumplings and dim sum.
MENU
Steamed- fried Chinese wonton
Steamed pork bao bun
Mandu-guk / Korean dumpling soup
Shu mai / Chinese stuffed pasta
Mochi / Japanese dumpling with sweet bean purée
ALLERGEN INFORMATION
Please advice us on any food allergies or intolerance you might have.
DATES
03 March 2020
- Tuesday
18:00 - 21:00
Páva utca
27 March 2020
- Friday
18:00 - 21:00
Páva utca
COURSE REMINDER…
Notify me if this course is being published at another time or a place becomes available.