Duck and goose - the next level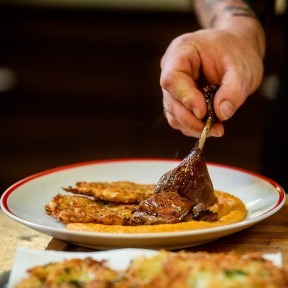 1 person / course = 16.990,-
2 person / course = 28.990,-
Your go-to bird is always chicken? You are almost bored with it, but don't know how to step out of your comfort-zone? We show you 3 amazing recipes (starring duck and goose cuts) and several tips and hints to get you started on your journey in the land of the poultry!
MENU
Duck breast steak, onion jam, mixed salad leaves
Mustard goose breast stew, matzo dumpling
Honey roasted duck legs, potato patties, pumpkin puree
ALLERGEN INFORMATION
Please advice us on any food allergies or intolerance you might have.
DATES
Unfortunately there is no available date.
COURSE REMINDER…
Notify me if this course is being published at another time or a place becomes available.