Ethno-vegan - India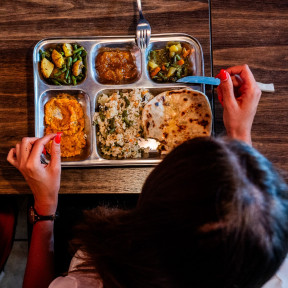 Duration: 3 hour
Number: 10 person
Difficulty level:
Use of ingredients:
Cultural depth:
Language: Hungarian
Európában is egyre többen lesznek vegánok a fenntarthatóság jegyében, elhagyják a hús-tojás-tejtermék szentháromságát, amire a nyugati konyhai kultúrkör épül. Tőlünk keletebbre és délebbre nagyon könnyű vegánnak lenni: a fűszerek, a hüvelyesek, a zöldségek és gyümölcsök arzenálja segíti az ott élőket. Ma este Indiába kirándulunk, ahol vallási okokból majdnem mindenki vegán. Egy hatalmas vegán thali vegyestálat készítünk sok klassz fűszerrel és zöldséggel, lencsével és persze chilivel.
MENU
Coconut vegetable curry
Potato & green beans jalfrezi
Bengal masoor dhal
Vegetable pulao rice
Aloo paratha / Indian potato stuffed flatbread
Mango chutney
ALLERGEN INFORMATION
Please advice us on any food allergies or intolerance you might have.
DATES
IF THE DATE IS NOT SUITABLE …
Notify me if this course is being published at another time or a place becomes available.