Meze-mánia - vegán különkiadás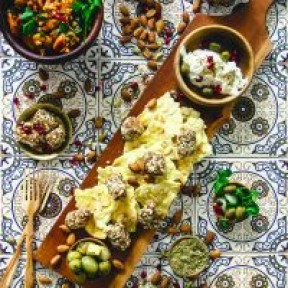 Duration: 3 hour
Number: 10 person
Difficulty level:
Use of ingredients:
Cultural depth:
Language: Hungarian
Ezt a kurzust két népszerű trend találkozása ihlette, egyrészről az egymással megosztva, közös tányérokból falatkázás kultúrája, másrészt az igény a vegán életformára, étkezésre. Ez a találkozás azonban nem erőltetett: a Földközi-tenger keleti vidékén, a mai Közel-Keleten évszázados hagyománya van enni "vegánul és falatkákat". Sőt, valójában akkor lenne nehezebb dolgunk, hogy valami ne friss, ne zöldséges legyen. Mai lakománkhoz salátákat, mártogatósokat, remek egytálételeket hoztunk: egy-két klasszikust némiképp újra gondolva, illetve olyan fogásokat, amelyek még kevésbé ismertek itthon. Legyetek vendégeink egy igazán gazdag meze körutazásra Izraeltől Libanon és Szírián át Jordániáig.
MENU
Tabbouleh / Green salad, couscous
Za'atar toasted seed mix
Yellow hummus with turmeric and mango
Damascus kibbeh with tomato sauce
Rice and vegetable fatteh
Cauliflower Couscous with pine nuts and raisins
Muhammara / Pepper and walnut dip
DATES
IF THE DATE IS NOT SUITABLE …
Notify me if this course is being published at another time or a place becomes available.