Moroccan favorites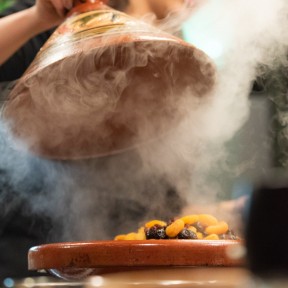 Duration: 3 hour
Number: 10 person
Difficulty level:
Use of ingredients:
Cultural depth:
Language: Hungarian
Magical Arabian nights, exciting flavours, scents, and vibrant colours, that is Morocco. Morrocan kitchen is a unique mixture of the cultures that blended here throughout history, a touch of Berber, a hint of Muslim and a pinch of French, altogether, cooking in a tagine in perfect harmony. Surrounded by the scents of the smoked spices, the flower essences the tales of the enchanted market of Marrakesh will suddenly become one step closer to being real.
MENU
Harira soup with white bean and chickpea
Moroccan orange-carrot salad
Orange chicken wings
Sweet lamb tagine with apricot and plum
Kalb el louzz / Moroccan orange and almond cake
DATES
16 December 2023
- Saturday
10:00 - 13:00
Páva utca
23 December 2023
- Saturday
16:00 - 19:00
Bécsi út
IF THE DATE IS NOT SUITABLE …
Notify me if this course is being published at another time or a place becomes available.