Moroccan favorites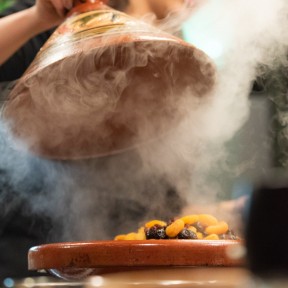 Duration: 3 hour
Number: 10 person
Difficulty:
Language: Hungarian
1 person / course = 15.990,-
2 person / course = 27.990,-
Moroccan food is so diverse and vibrant in color and flavor. The flavor combinations, aromatic spices and exotic ingredients make even the most basic dishes amazing. Explore the wonderfully diverse and delicious world of Moroccan cuisine. You won't be disappointed with the incredible variety, exotic seasoning and innovative ingredient combinations that await you.
MENU
Harira soup with white bean and chickpea
Moroccan orange-carrot salad
Orange chicken wings
Sweet lamb tagine with apricot and plum
Sweet couscous, orange flower syrup
ALLERGEN INFORMATION
Please advice us on any food allergies or intolerance you might have.
DATES
01 March 2020
- Sunday
10:00 - 13:00
Páva utca
15 March 2020
- Sunday
16:00 - 19:00
Bécsi út
COURSE REMINDER…
Notify me if this course is being published at another time or a place becomes available.