Street Food India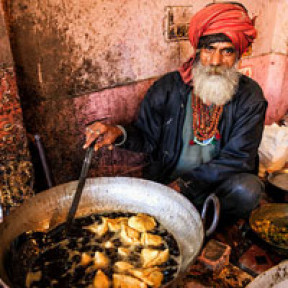 Duration: 3 hour
Number: 10 person
Difficulty level:
Use of ingredients:
Cultural depth:
Language: Hungarian
When it comes to crowded markets, festivals, streets full of life, India is the place. There has long been the tradition of selling food on the streets. This course offers you the experience of genuine and incredible Indian Street Food from vegetables, salads to all kinds of sauvory and sweet snacks with full of flavours and spices.
MENU
Chaat Salad / Masala salad with chickpeas
Pakora / Indian crispy vegetable fritter
Samosa / Indiain fried pastry snack
Pav Bhaji / Bombay veggie curry
Gulab Jamun / Indian sweet in spicy syrup
DATES
COURSE REMINDER …
Notify me if this course is being published at another time or a place becomes available.