Street Food Italy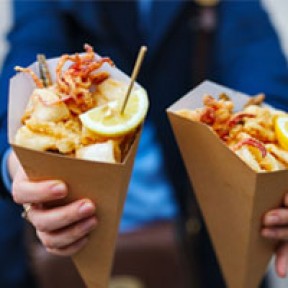 Duration: 3 hour
Number: 10 person
Difficulty level:
Use of ingredients:
Cultural depth:
Language: Hungarian
Street food - az utcai evés és főzés. Hiába közkedvelt: valljuk be, európai országokra kevésbé jellemző. De van egy-két hely, ahol a mindennapok és a gasztronómia része a street food. Az egyik ilyen Olaszország, ahol főleg a déli régiókra jellemző, hogy akár állva vagy sétálva is fogyaszható ételek széles kínálatával találkozhatunk. Ezekből válogattuk össze a mai menüt: tartsatok velünk erre a kulináris kirándulásra.
MENU
Focaccia barese / Italian flatbread, cherry tomatoes, oregano
Arancini / Stuffed, deep fried rice balls
Fritto misto / Mixed fried seafood
Porchetta sandwich / Roasted pork belly sandwich
DATES
03 June 2023
- Saturday
16:00 - 19:00
Etyek
10 June 2023
- Saturday
16:00 - 19:00
Bécsi út
IF THE DATE IS NOT SUITABLE …
Notify me if this course is being published at another time or a place becomes available.