Wok wok wok - Thailand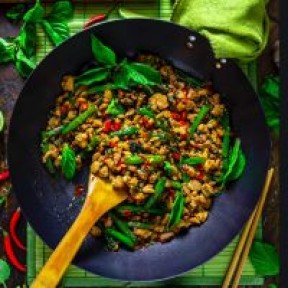 Duration: 3 hour
Number: 10 person
Difficulty level:
Use of ingredients:
Cultural depth:
Language: Hungarian
Although the wok, as a kitchen tool, originally comes from China, it has now spread throughout Asia (and the world). Most Asian countries have created their own wok dishes and recipes. In our popular wok series' latest course, we venture to Thailand to prepare classic Thai wok dishes. The focus will not only be on mastering wok techniques but also on understanding ingredients and their mixing possibilities. There will be steamed and fried rice, glass and rice noodles, various meats, shrimp, and of course, a variety of vegetables, pastes, sauces, spices, herbs and chili. Make sure to arrive hungry as wok dishes are the most delicious when freshly served!
MENU
Pad prik king / Thai red curry chicken & long beans
Kao pad pak ruam / Fried rice with mixed vegetables
Pad ka prao with vermicelli / Minced meat and basil stir-fry
Pad thai / Stir-fried noodles with prawns
DATES
COURSE REMINDER …
Notify me if this course is being published at another time or a place becomes available.