Wok wok wok - Thailand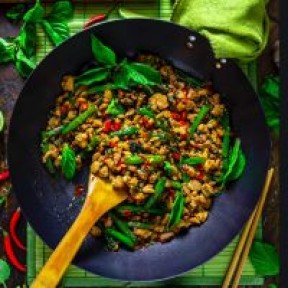 Difficulty level:
Use of ingredients:
Cultural depth:
Bár a wok mint konyhai eszköz eredetileg Kínából származik, mára Ázsia (és világ) szerte elterjedt és a legtöbb ázsiai ország megalkotta saját wokos ételeit, receptjeit. Népszerű wok sorozatunk legújabb kurzusán Thaiföldre kalandozunk és klasszikus thai wok ételeket készítünk. Nemcsak a wokos technikák elsajátításán lesz a hangsúly - hanem alapanyagismereten és ezek keverési lehetőségein. Lesz rizs pároltan és pirítva, lesz üvegtészta és rizstészta, lesznek különféle húsok, rákok és persze sok-sok zöldség, paszta, szószok, fűszer, zöldfűszer és chili. Minden frissen finom: kéretik éhesen érkezni.
MENU
Pad prik king / Thai red curry with ginger, chicken & long beans
Kao phad pak rum / Fried rice with mixed vegetables
Pad ka prao with vermicelli / Basil- meat stir-fry, vermicelli
Pad thai / Stir-fried noodles with prawns
ALLERGEN INFORMATION
Please advice us on any food allergies or intolerance you might have.
DATES
Unfortunately there is no available occasion.
COURSE REMINDER …
Notify me if this course is being published at another time or a place becomes available.
HASHTAGIFY