Chicken Curry Asia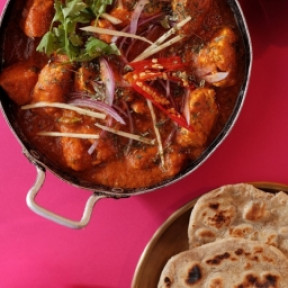 Duration: 3 hour
Number: 10 person
Difficulty level:
Use of ingredients:
Cultural depth:
Language: Hungarian
Chicken Curry - although partly of British origin - exists in many different versions in Asia, as we will see on this chicken curry journey. We will explore four major Asian cuisines together: learning to adjust curry sauce and thickness, skillfully use spices, and blend flavors - all with different chicken parts. We begin with a classic from the city of Madras in South India. Then we are heading to Thailand for the Thai Green Curry, made with fresh green curry paste, vegetables, and coconut milk. Our most exotic recipe is the Indonesian Kare Ayam, made with dry and wet spices. Finally, we have Japan's Kare Raisu, which is less spicy, made with vegetables and a thick broth. Delicious side dishes and refreshing drinks will accompany our curry adventure.
MENU
Chicken Madras curry
Thai green curry with chicken
Kare ayam / Indonesian chicken curry
Kare raisu / Japanese chicken curry
DATES
IF THE DATE IS NOT SUITABLE …
Notify me if this course is being published at another time or a place becomes available.
HASHTAGIFY