Pastaparade - South Italian special edition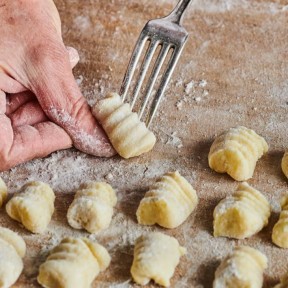 Duration: 3 hour
Number: 10 person
Difficulty level:
Use of ingredients:
Cultural depth:
Language: Hungarian
Pasta lovers, let us introduce you to the next star of our pasta parade! You will get to know different Italian flours and authentic techniques while making your own dough and pasta. We will prepare a focaccia bread, which you can easily do at home to impress your family and friends. Next on the menu is ricotta gnocchi, which is just as delicious as the one with potato and it is even easier to master. Last but not least, we make cavatelli, a pasta without any egg, along with a courgette ragout, topped with parsley pesto and pine-nuts.
MENU
Focaccia barese / Italian flatbread, cherry tomatoes, oregano
Ricotta gnocchi, sugo al pomodoro / Ricotta gnocchi, tomato sauce
Cavatelli con crema di pinoli e zucchini / Cavatelli, creamy zucchini sauce, pine nuts
DATES
17 December 2023
- Sunday
16:00 - 19:00
Bécsi út
27 December 2023
- Wednesday
16:00 - 19:00
Bécsi út
21 January 2024
- Sunday
16:00 - 19:00
Bécsi út
IF THE DATE IS NOT SUITABLE …
Notify me if this course is being published at another time or a place becomes available.