Thai Classics - Soups & Curries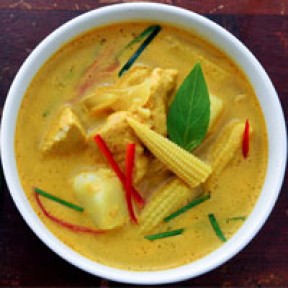 Duration: 3 hour
Number: 10 person
Difficulty level:
Use of ingredients:
Cultural depth:
Language: Hungarian
The best first step to get to know South East Asian cuisine is all about classics. Learn how to get the absolute perfect texture for your soups and curries. You can master the basic tricks of Thai cookery while learning how to use those amazing spices and ingredients in a way that you instantly feel like you are wondering at a market in the heart of Bangkok.  The rich and silky coconut milk and the heavenly harmony between the sweet, spicy and sour flavours will make you fall in love with Thai cuisine in a blink of an eye.
MENU
Green curry paste
Tom Yum Goong / Hot and sour prawn soup
Tom kha gai soup
Green curry with pork
Matsaman curry
ALLERGEN INFORMATION
Please advice us on any food allergies or intolerance you might have.
DATES
30 January 2022
- Sunday
10:00 - 13:00
Páva utca
01 February 2022
- Tuesday
18:00 - 21:00
Páva utca
15 February 2022
- Tuesday
18:00 - 21:00
Bécsi út
IF THE DATE IS NOT SUITABLE …
Notify me if this course is being published at another time or a place becomes available.