Duck and goose - the next level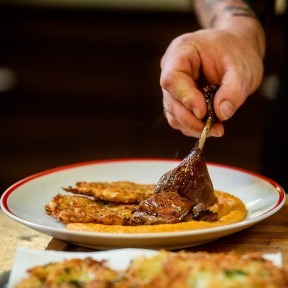 Duration: 3 hour
Number: 10 person
Difficulty level:
Use of ingredients:
Cultural depth:
Language: Hungarian
Your go-to poultry is chicken? You would like to step out of your comfort zone, but not sure how? We got you covered! We will show you three amazing recipes starring duck and goose cuts along with several tips and tricks to get you started on your journey in the land of the poultry!
MENU
Duck breast steak, onion jam, mixed salad leaves
Mustard goose breast stew, matzo dumpling
Honey roasted duck legs, potato patties, pumpkin puree
DATES
17 February 2023
- Friday
11:00 - 14:00
Bécsi út
20 March 2023
- Monday
18:00 - 21:00
Etyek
28 March 2023
- Tuesday
18:00 - 21:00
Etyek
IF THE DATE IS NOT SUITABLE …
Notify me if this course is being published at another time or a place becomes available.