Thai Classics - Soups & Curries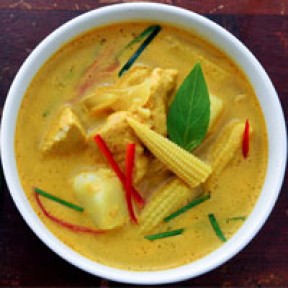 Duration: 3 hour
Number: 10 person
Difficulty:
Language: Hungarian
1 person / course = 15.990,-
2 person / course = 27.990,-
Authentic Thai curry is a truly exquisite dish and need not be avoided. The perfect Thai curry is a delicate balance of herbs and spices, meat and vegetables, sauces and succulents, giving rise to a suffusion of contrasting flavours such as the delicate cucumber with the pungent chilli, or sweet chilli with the sour of lime. Thai soup recipes are unique in the world, they are an interesting blend of contrasting flavours usually made from whatever is at hand often quite watery with lovely delicate flavours, of course some can be very spicy. Dive into the mysteries of Thai cuisine!
MENU
Green curry paste
Green curry with pork
Tom Kha Gai Soup
Prawn Tom Yum soup
Matsaman Curry
ALLERGEN INFORMATION
Please advice us on any food allergies or intolerance you might have.
DATES
18 October 2019
- Friday
18:00 - 21:00
Páva utca
07 November 2019
- Thursday
18:00 - 21:00
Páva utca
COURSE REMINDER…
Notify me if this course is being published at another time or a place becomes available.